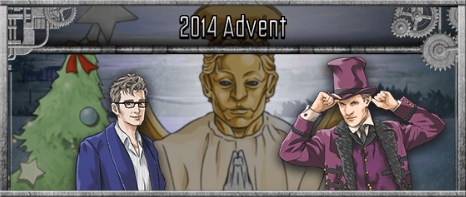 The 2014 Advent is a special set of levels released in December 2014; it is a followup to the discontinued 2013 Advent Pack. The first level was released on 1st December, and new levels were released daily through the 24th, with a final level based on the 2014 Christmas special added on the 26th. Like other special seasons, the levels have varying difficulty and can be played in any order.
The season is 25 levels long and grants access to 9 allies and 20 alternate outfits (one of which can be used for multiple allies).
The following levels are available in 2014 Advent.
The following allies can be unlocked in 2014 Advent levels.
The following outfits can be unlocked in 2014 Advent levels.
Referenced Episodes
Edit
The following television episode is directly referenced in 2014 Advent levels.
| Season (in the show) | Episode | Associated Levels |
| --- | --- | --- |
| Revived Series 8 | "Last Christmas" | Last Christmas (L20 req.) |
Ad blocker interference detected!
Wikia is a free-to-use site that makes money from advertising. We have a modified experience for viewers using ad blockers

Wikia is not accessible if you've made further modifications. Remove the custom ad blocker rule(s) and the page will load as expected.