Bigger on the Inside may refer to the following seasons in Doctor Who: Legacy: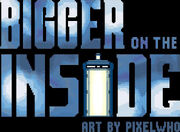 Bigger on the Inside is a collaboration between Doctor Who: Legacy and PixelWho. It was previewed in the 2014 Advent level Seven Zygons Pixelated. The prologue launched on March 26th 2015, marking the 10th anniversary of the Revived Series of Doctor Who. Chapter 1 launched on August 3, 2016.
The storyline sees a virus invade the TARDIS, throwing all incarnations of the Doctor and his companions into danger. Individual arcs for the Tenth, First, War, and Eighth Doctors are included so far.
Ad blocker interference detected!
Wikia is a free-to-use site that makes money from advertising. We have a modified experience for viewers using ad blockers

Wikia is not accessible if you've made further modifications. Remove the custom ad blocker rule(s) and the page will load as expected.