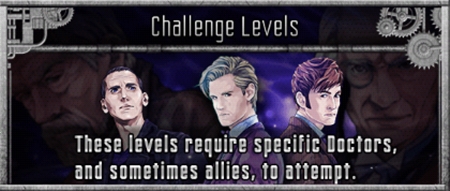 The Challenge Levels is a special set of levels. The levels have a varying difficulty (noted in each level's name) and in those levels some specific Doctors or allies need to be used to beat them. All of the levels have a 100% time crystal drop after being beaten for the first time.
The season is 19 levels long and grants access to 6 allies.
The following levels are available in the Challenge Levels.
The following allies can be unlocked in Challenge Levels.
V

·

E

Doctor Who Legacy Seasons
Main Seasons
Chapter 1 Chapter 2 Chapter 3 Chapter 4
Special Seasons
Expert Levels Challenge Levels The Hunt For Greyhound One 2014 Advent Season 8 Expert Levels Season 2 Season 9 Bigger on the Inside prologue The Event
Premium Content
Fan Area Sonic Adventure Doctor Who: Legacy Kids The Husbands of River Song Bigger on the Inside Chapter 1
Discontinued Seasons
Advent Pack 2015 Special 2016 Xmas
Ad blocker interference detected!
Wikia is a free-to-use site that makes money from advertising. We have a modified experience for viewers using ad blockers

Wikia is not accessible if you've made further modifications. Remove the custom ad blocker rule(s) and the page will load as expected.