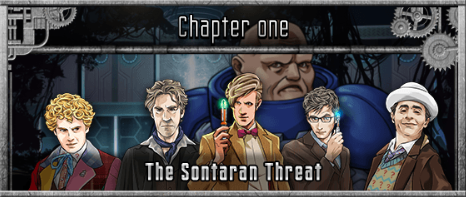 Chapter 1: The Sontaran Threat (originally known as Season 7) is one of the two seasons of Doctor Who: Legacy available since its initial launch. Its content features primarily creatures, companions, and plot lines from the seventh season of the revived television series. The season is 48 levels long and grants access to 24 allies and 9 alternate outfits.
The following levels are available in Chapter 1.
The following allies can be unlocked in Chapter 1 levels.
Ally
Drop
Note
None (game start)
None (game start)
None (game start)
Nightmare in Silver: Mr. Clever
100% Drop Rate

Asylum of the Daleks: Graveyard
Asylum of the Daleks: Corridor 5L
The Snowmen: Backstreets of London

Asylum of the Daleks: Intensive Care
100% Drop Rate
Dalek Paradox
100% Drop Rate
The Snowmen: The Latimer Residence
100% Drop Rate
The Snowmen: The Great Intelligence
The Red Castle
Ascent of the Governess
The Silent Paradox
100% Drop Rate
Time Attack: The Silent
Angels Take Manhattan: 1938
Hearts of Steel
Nerves of Dalekanium
Fists of Arnickleton
100% Drop Rate
Dinosaurs on a Spaceship: Run!
Solomons Robots
Revenge of Liberty
100% Drop Rate
Stampeding Dinosaurs!
100% Drop Rate
Paradox of the Weeping Angels
100% Drop Rate
The Bells of Saint John: He Returns
The Return of Mr. Clever!
Whispermen Paradox
100% Drop Rate
Chapter one finale: An Ancient Hatred
100% Drop Rate
The following alternate outfits can be unlocked during Chapter 1 levels.
Referenced Episodes
Edit
The following television episodes are directly referenced in Chapter 1 levels.
V

·

E

Doctor Who Legacy Seasons
Main Seasons
Chapter 1 Chapter 2 Chapter 3 Chapter 4
Special Seasons
Expert Levels Challenge Levels The Hunt For Greyhound One 2014 Advent Season 8 Expert Levels Season 2 Season 9 Bigger on the Inside prologue The Event
Premium Content
Fan Area Sonic Adventure Doctor Who: Legacy Kids The Husbands of River Song Bigger on the Inside Chapter 1
Discontinued Seasons
Advent Pack 2015 Special 2016 Xmas
Ad blocker interference detected!
Wikia is a free-to-use site that makes money from advertising. We have a modified experience for viewers using ad blockers

Wikia is not accessible if you've made further modifications. Remove the custom ad blocker rule(s) and the page will load as expected.